Market Bites: Stocks Bounce
What you need to know:
-Stocks are rebounding after historic losses.
-The Trump administration is struggling to speed up testing.
-Many states are closing all schools.
-Canadian Prime Minister Justin Trudeau is in isolation.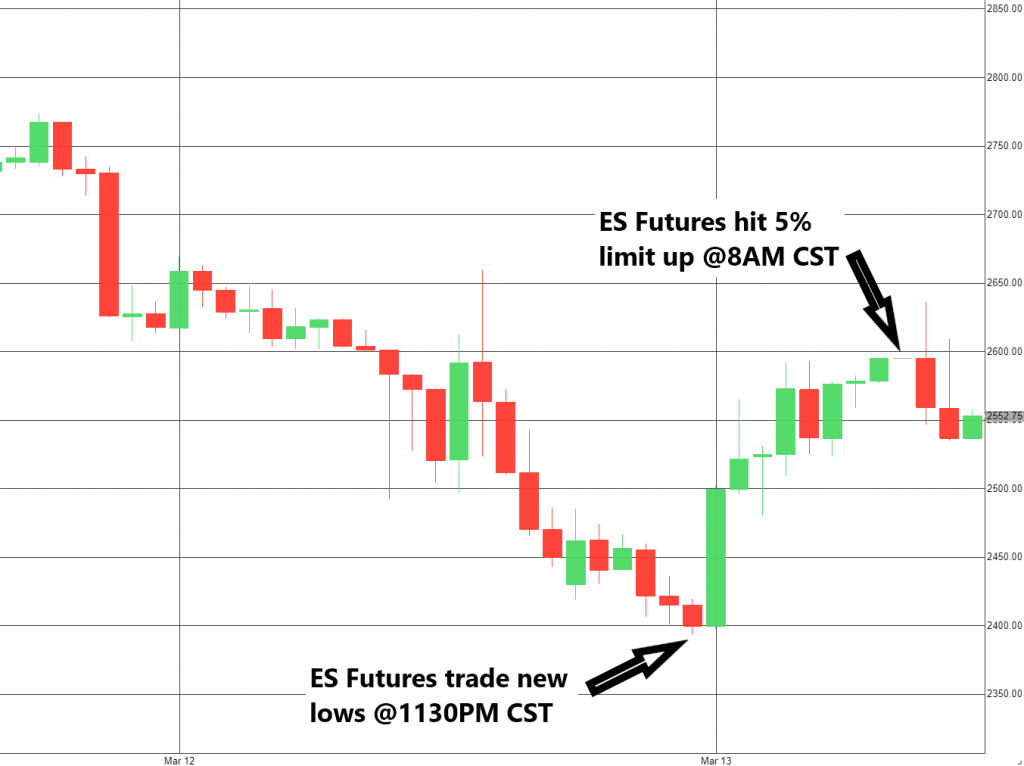 Stock futures rebound & hit circuit breakers before market opens
Stocks bounced on Friday morning from their worst day in more than 30 years, perhaps due to signs of further stimulus from various governments. The ECB announced that they will be providing liquidity to banks, the German government has offered 'unlimited' loans to stop business from collapsing and the FOMC meets next week. ES futures jumped 5% in pre-market trading. European markets are up as well, with some major indexes rising as much as 10 percent. Oil prices are up 7% and yields on U.S. government bonds rose.
The Trump administration is pushing to substantially increase the speed of coronavirus testing, and announced an emergency hotline for labs and support for companies developing tests that identify the virus in under an hour. The FDA said that the emergency hotline would be created to help private and academic labs authorize and deploy new tests to the public.
At least six states have closes all schools for a minimum of two weeks, a measure that they hope will slow the spread of the virus. All public schools in Oregon, Ohio, Michigan, Maryland, Kentucky and New Mexico will be closed beginning next week.
Canadian Prime Minister Justin Trudeau is in isolation for at least two weeks, after his wife tested positive for the virus. He continues to perform most of his official duties, although his meetings are conducted via conference call and he is reported to be absent from the House of Commons.
Related Articles
DISCLAIMER: There is a substantial risk of loss in trading commodity futures and options products. Losses in excess of your initial investment may occur. Past performance is not necessarily indicative of future results. Please contact your account representative with concerns or questions.
Free Trading Platform Demo
Please note that the demo does not account for commissions and fees that would be charged in a live account.