30 days of COMMISSION FREE Micro E-Mini trading for new accounts!
Sign up for a FREE 14 day demo of the Firetip X online trading platform 
Please note that the demo does not account for commissions and fees that would be charged in a live account.
Firetip X Key Features
Popular and customizable time periods (minutes, hourly, daily, tick) Charting
Place & Cancel Orders Outside of Market Hours
Place your order before the market opens and once the market goes to"pre-open" firetip will submit your order to the exchange for best position in queue
Trade from over 600,000 symbols
If a spread does not exist and you want to trade it, feel free to create it using the spreads module
Unfiltered Market Data
Adjustable Quote Speed
Trade on any platform — native Windows, Mac, Linux, Android & iOS applications
Hundreds of formulas
Statistical Functions
Expandable Depth of Market
Real Time Position Monitoring
Real Time Margin Monitoring
Multiple Asset Classes
Option Chains
Option Greeks
Option Charting
Spread Trading
Spread Charting
Native Exchange Connectivity
Intraday Charting Database
Time and Sales
Portfolio Time and Sales
Multiple Chart Types
One-Click Trading
Order Monitoring
Email, Mobile, Push Alerts
Custom Order Types
Custom Indicators
Custom Formulas
Firetip X Trading Platform Overview
The all-new Firetip X is a full featured professional-grade trading platform. Designed for traders that demand reliability and high performance, Firetip X incorporates the features & speed to better facilitate your trading. Firetip X is designed to be an intuitive, easy-to-learn trading platform, but with all the features you need & expect to make your futures and options trading a success.
Firetip X is compatible with Windows, Mac, iOS, Android, Linux, and more.
Firetip X uses the same executable code across all platforms. You can build a workspace on your Windows desktop, and open the same exact workspace on your iPhone.
Free Demo Platform
We offer a complimentary two week demo of Firetip X with live market data so that you can familiarize yourself with the functionality of the software. During your demo, we recommend reading up on our Firetip X guides in the Ironbeam community. We offer comprehensive one-on-one walk-throughs of Firetip X for all new live trading accounts.
Trading Matrix
The Trading Matrix is your personal quote board. Select futures, options, or spreads and track various live data points like Change, Bid/Ask, OHLC, Volume, Open Interest, Option Greeks, and much more. Apply your custom formulas as indicators or trade signals to the Trading Matrix. Long gone are the days of having to look at a chart to get your trade signals or to see what price a certain moving average is at. The Trading Matrix also supplies you with real time margins and contract specifications like tick size, value, and expirations.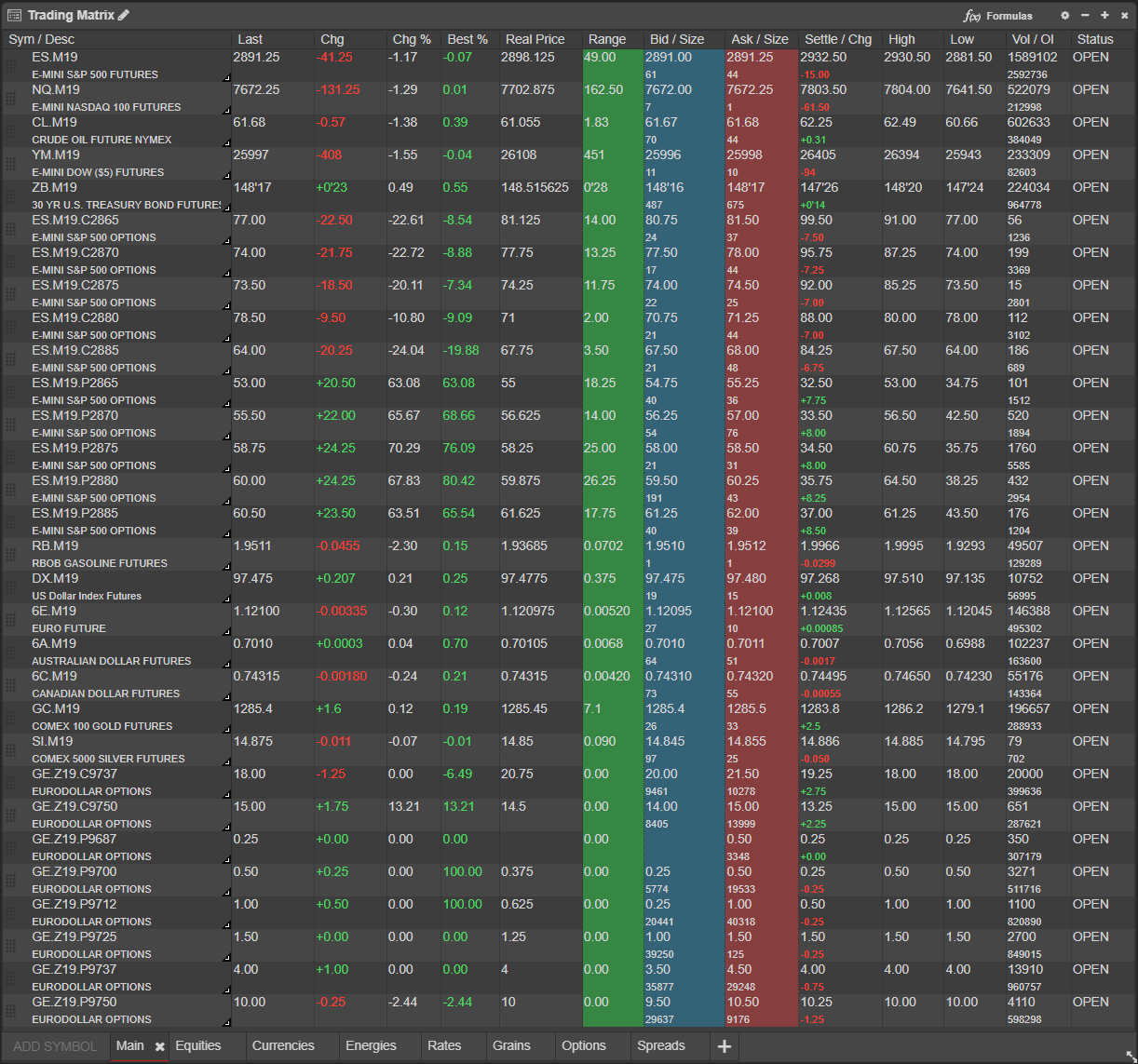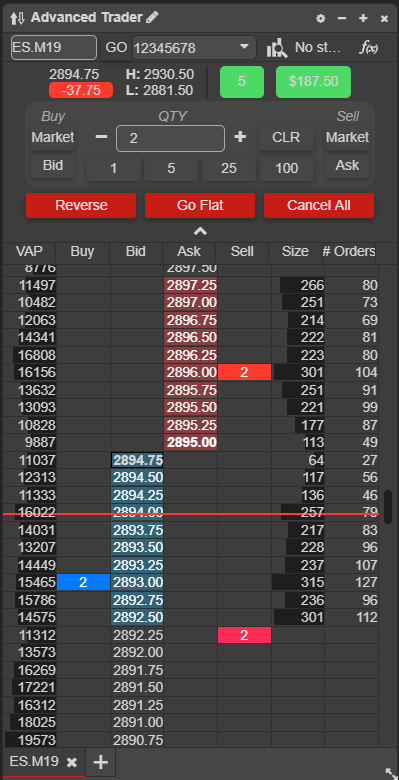 Advanced Trader
Monitor depth-of-market (DOM) direct from the exchange, with unfiltered market data. Place, modify and cancel orders with ease. Deploy custom order strategies, and put your custom order types to the test. The Advanced Trader was designed to be a completely customizable DOM. You can now plot indicators and custom formulas as their own column within the ladder. With "one-click-trading" enabled, you can place orders and strategies with one click, and drag orders to modify. The new Advanced Trader also sports displays to show your position, P/L, and average entry price.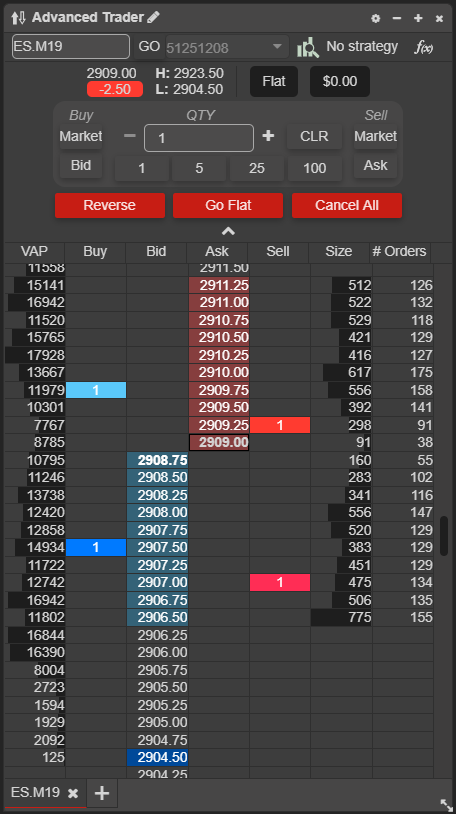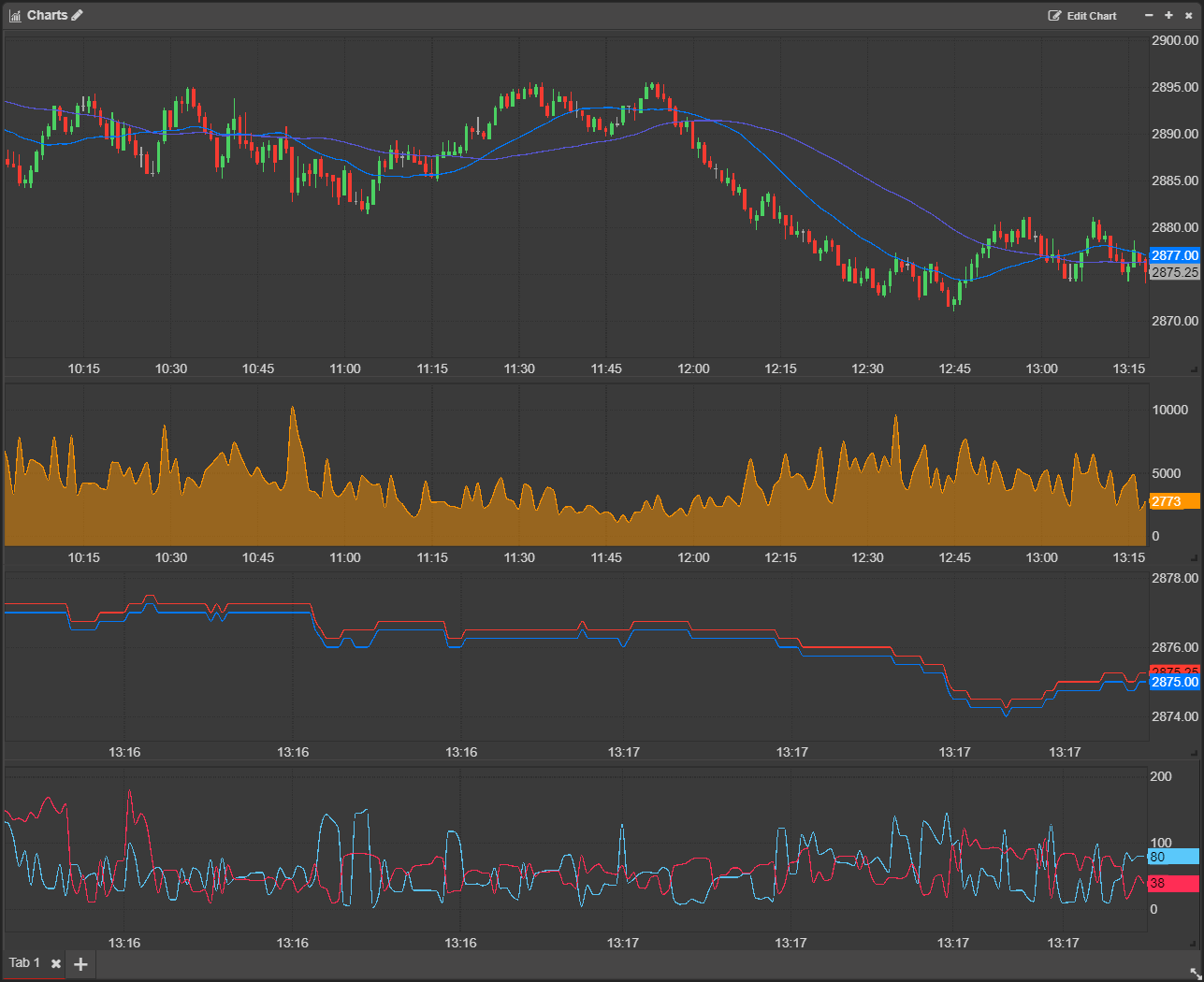 Advanced Charting
Firetip X comes with a brand new charting engine. Aside from all of the industry standard features, Firetip X's charting allows you to create and monitor custom formulas and indicators in real time across multiple markets. Instead of only having indicators that rely on your candles or bars, you can create formulas that ignore the past and only focus on current market conditions. You can also put as many charts as you'd like into one charting window. Firetip X charting also supports Options & Spread charting.
Formulas & Xapiscript
Firetip X completely formula based. Any user can use xapiscript right on the front end trading platform. Create custom formulas and apply them as:
Trade signals
Custom Indicators
Order Types
Order Strategies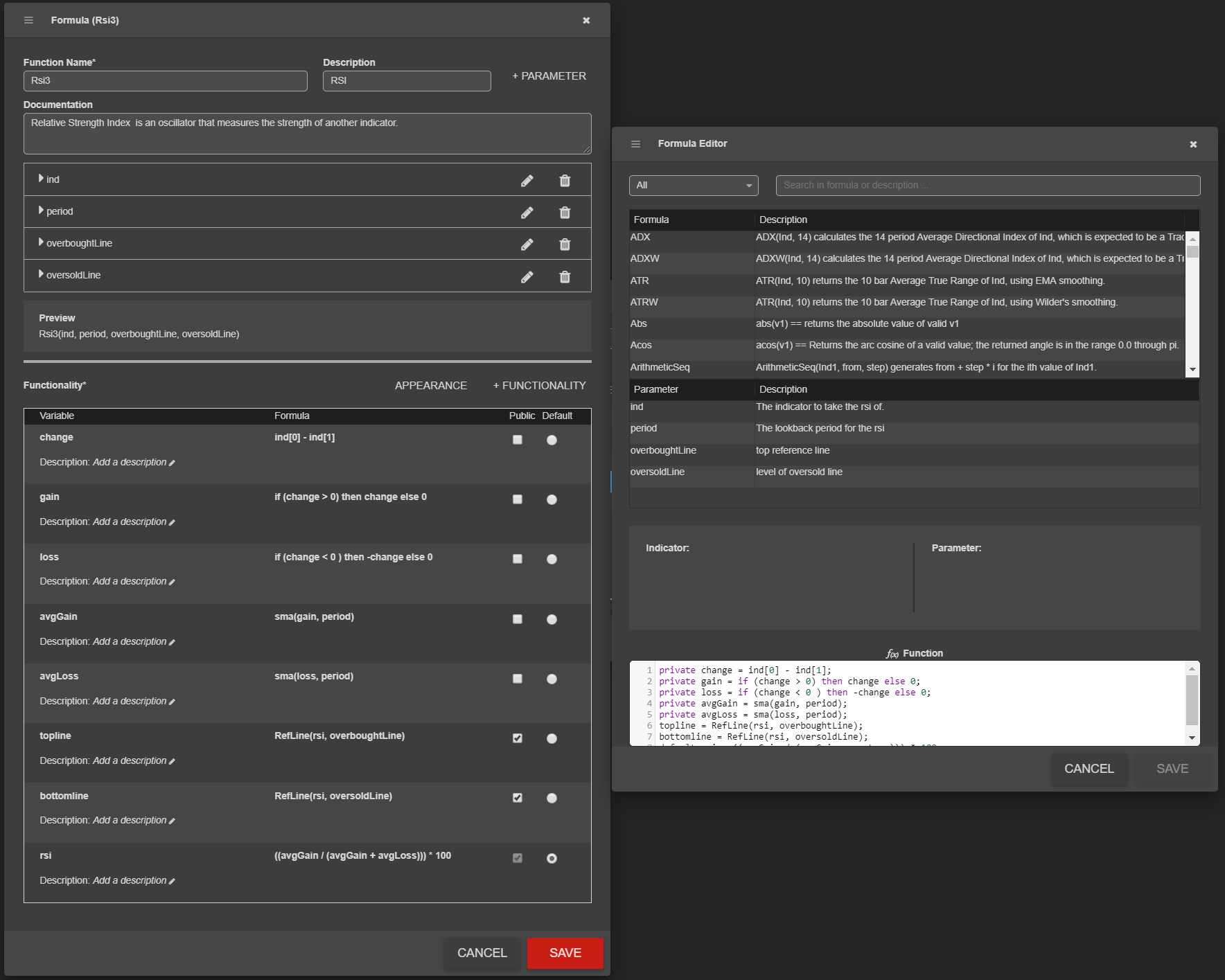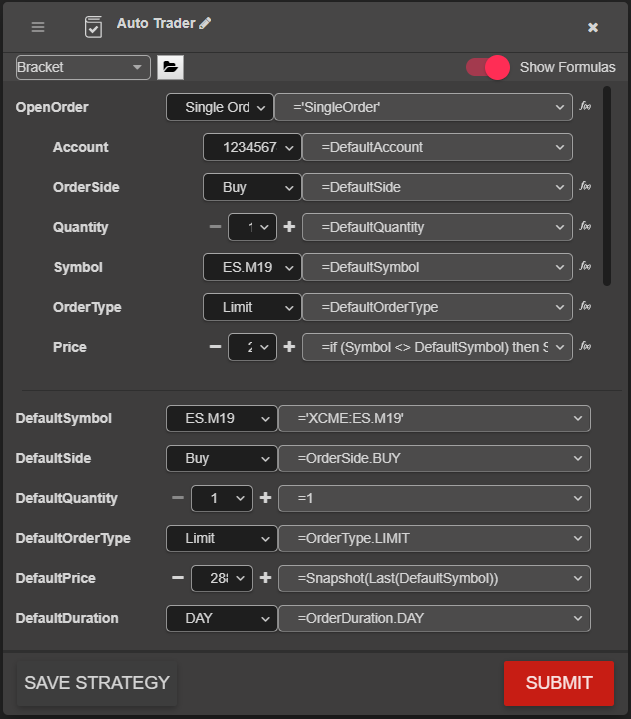 Custom Order Types & Strategies
Firetip X's order entry enables you to create and save custom order strategies. Aside from many built-in order types, the strategy builders lets you use custom formulas to create your own trading strategies and order types. Put your strategies to the test and make adjustments for better performance. All working orders placed on Firetip X are held server-side. You can place an order on your computer, and modify or cancel it on your phone. Built-in Order Types include:
Single Order
Trailing Stop
Multiple
Multiple Competing
Open and Close
Order Cancels Others (OCO)
Order Triggers Bracket
Bracket Order
Order Triggers Multiple
Order Triggers Next
Order Triggers OCO
Order Book
View details for any order history in your account. Monitor, modify, or cancel working and pending orders for continuous management of your futures trading portfolio.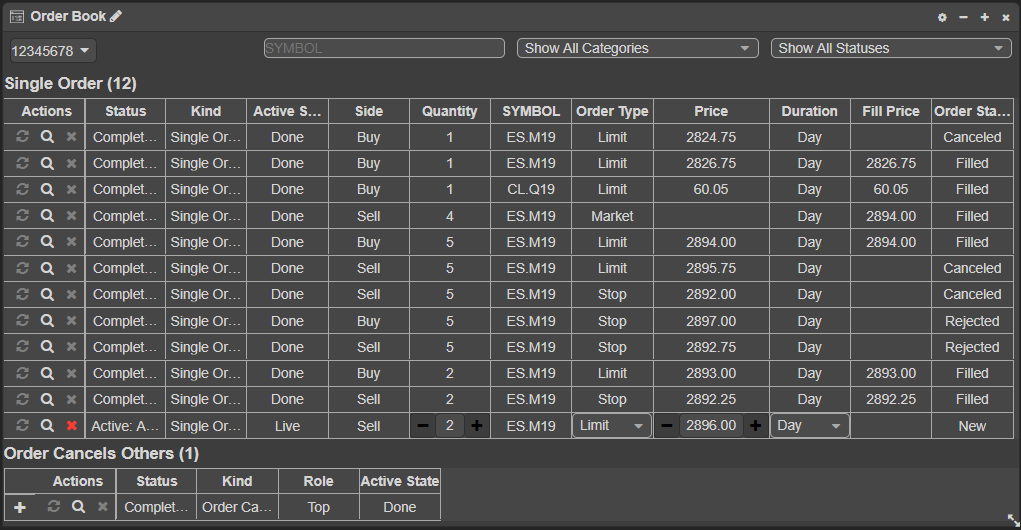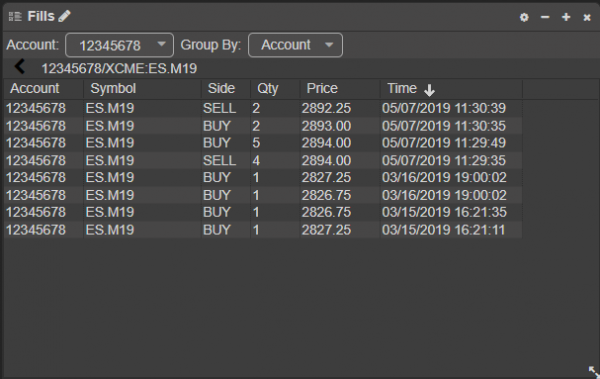 Fills 
Keep track of your filled orders, as well as your P/L on the day. View your combined fills, or sort by contract or time. If you are trading multiple accounts you can view fills for each separate account within the same window.
Account Detail
Monitor your live account details. View your margins, positions, and balances in real time. Use the Actions menu to quickly add or offset positions, check individual margin requirements, or open depth-of-market (ladder) for any of your open positions.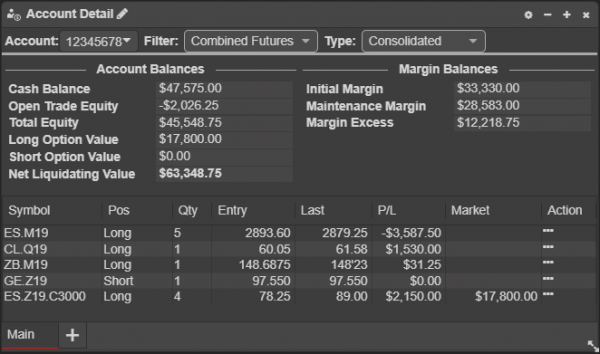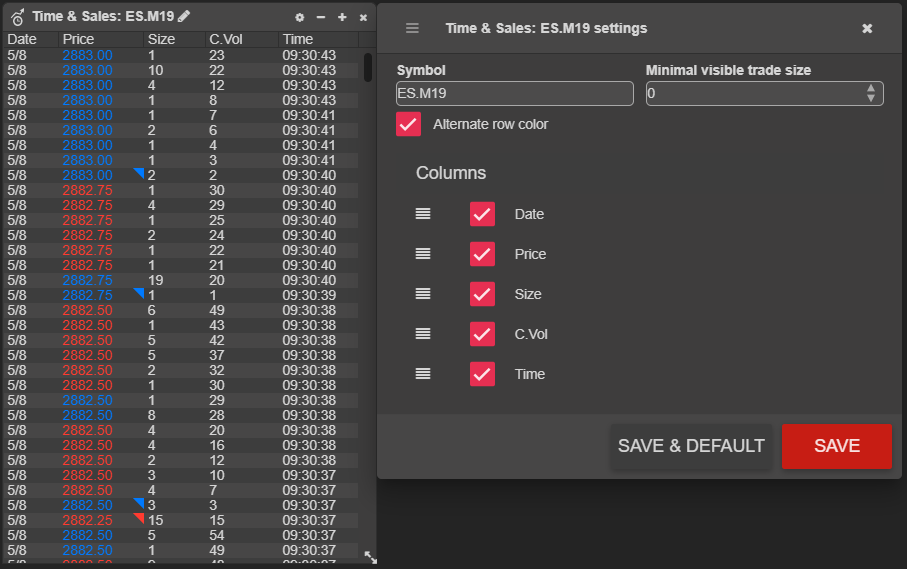 Time & Sales
Time and sales allows you to follow every trade in a specified contract. With your quote speed set to the highest, the market data is unfiltered and trades will come in with ultra-low latency. The time and sales tool also lets you sort by trade size to help you see where the big fills are happening.
Adjustable Quote Speed & Ultra-Low Latency
Firetip X distributes unfiltered tick data. Firetip's proprietary data aggregation algorithm allows remote users to subscribe to hundreds or thousands of instruments and formulas without bogging down a standard internet connection or PC. All of the indicator, formula & data calculations are done on Firetip servers, so your computer or mobile device can breathe.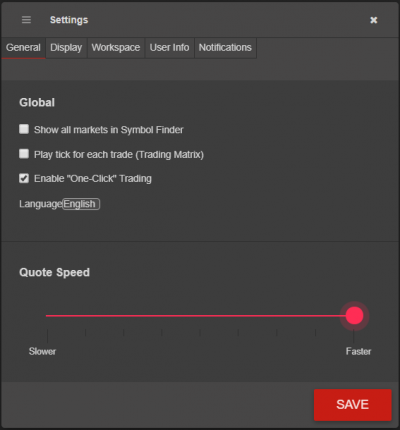 Alerts & Notifications
Firetip X has a feature-rich Alerts & Notifications system and can alert you of specific market conditions via text, pop-up,  email, or within the trading platform.
Live Demo of Our FIRETIP X Trading Platform
Sign up for a FREE 14 day trial of the FIRETIP online trading platform 
Please note that the demo does not account for commissions and fees that would be charged in a live account.
Micro E-Mini Futures FAQs Related Articles: Micro E-Mini Futures. Launching May 6th.  Micro E-Mini Futures Contract Specs. When will the Micro E-Mini products be listed for trading? CME Group will launch the following futures contracts on May 6th. Micro E-mini S&P 500 futures Micro E-mini Nasdaq-100 futures Micro E-mini Dow futures Micro E-mini Russell 2000 futures Why is [...]
Trading Platform FAQs Which trading platforms are available to me? Ironbeam offers many trading platforms. Visit our platform page to view your options. If there is a platform that you are interested in that is not listed on our platform page, call our help desk to check availability. Ironbeam is compatible with many platforms that are not listed [...]