Ironbeam's Trading Platform Gets a Major Upgrade
CHICAGO, February 14th, 2023  — Ironbeam, a leading online futures brokerage firm, is excited to announce the latest updates to its trading platform. The new and improved platform offers a range of new features and tools to enhance the trading experience for our clients.
What's New in Version 1.91:
New Event Contracts Trading Widget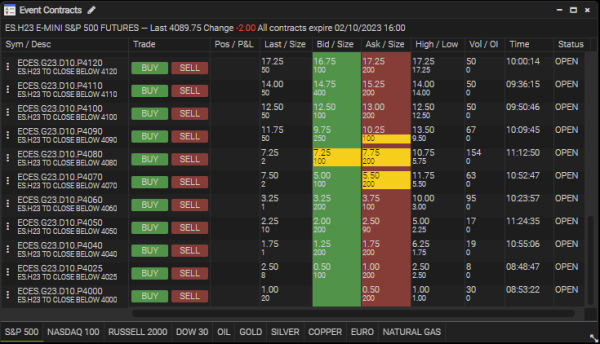 The first major update to the platform is the new widget for trading CME Event contracts, making it simple to trade these exciting new products from any device. The event contracts allow you to trade on where you think the futures markets will close above or below on a specific day. The widget is designed to be easy-to-use and provides traders with the ability to make quick and informed trades based on their market analysis and predictions.
Deposit and Withdraw Funds With Ease
The Ironbeam platform now features an improved funds management system, making it easier than ever to deposit and withdraw funds. You can now manage your account balance and funding with just a few clicks.
View Account Statements
The updated platform now allows clients to view their daily & monthly account statements and transaction history in real-time. This makes it easy to stay on top of your trades and manage your finances.
Manage Market Your Data Subscriptions
The Ironbeam platform now includes the ability to manage your market data subscriptions directly from the platform. This makes it easy to stay up-to-date with the latest market data and ensure that you always have the information you need to make informed trading decisions.
What's next?
We're excited to share new features and upgrades to the Ironbeam trading platform this year and will release details in the coming weeks. In the meantime, see below for some planned upgrades!
Trading by chart (Chart Trading)
MBO (Market-By-Order)
Order Flow charting and tools
Questions? Leave us a message below and we'll reach out.
DISCLAIMER: There is a substantial risk of loss in trading commodity futures and options products. Losses in excess of your initial investment may occur. Past performance is not necessarily indicative of future results. Please contact your account representative with concerns or questions.