10 Things to Consider When Choosing a Futures Trading Platform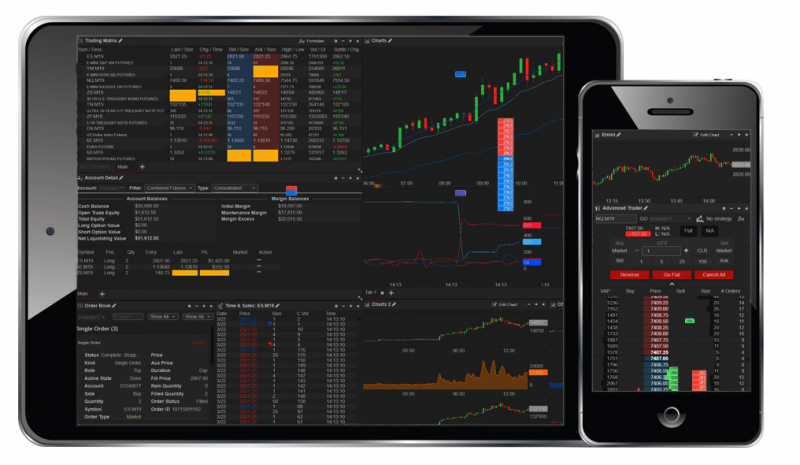 Choosing the right futures trading platform is an important step in your journey to opening a futures and options trading account. There are many options out there, and whether you're a beginner trader or hardened professional, you'll want to choose a trading platform that provides the tools that you require.
Futures Trading Platforms for Beginner Traders
New futures traders can find it a daunting task to pick a trading platform. If you're just getting started with futures trading, you'll want to pick an intuitive and easy-to-use platform that you can use both from a desktop computer or smartphone. Its also important to consider cost, especially if you are starting out with a limited amount of capital to trade with. A free trading platform is always worth checking out, as you can try it out without it costing you extra money to do so.
Futures Trading Platforms for Veteran Traders
Seasoned futures traders who have years of experience will have an easier time picking a trading platform that suits them. They have likely already tested many trading platforms and are aware of which features and tools are needed to satisfy their demands. Many futures brokers offer multiple trading platforms to choose from, so sometimes it's as simple as giving your broker a call to find out which platform has the features you'll need.
#1 Support
Support tops the list of the most important things to consider. You'll want to pick a platform that has support whenever the markets are open. If you ever have a question or issue with your trading software, there should always be a number to call to get help.
#2 Mobile App
In this day and age, your futures trading platform should have a mobile app available for iOS and Android. You should have access to your account and the markets whether you're sitting at your home trading desk, or out on the road.
#3 Speed & Reliability
Speed has become a big part of modern futures trading. Since the exchange prioritizes orders in the order that they come in, you'll want to make sure that you're using a trading platform that offers low latency and as few third-party interactions as possible. A trading platform with direct market data and order routing is a good place to start. This means choosing a trading platform that has its own data feed, as opposed to a platform that connects to another vendor for market data and order routing. This also makes things easier to be able to trade right away after your account is opened.
#4 Order Management
It shouldn't be rocket science to place an order on your trading platform. The best trading platforms make it easy to place and manage your orders. Server-side order management is also important. Many trading platforms still store your orders on your computer, so if your platform crashes or you turn off your computer, your orders are no longer working and can leave you exposed to the markets or miss trades. With a platform that stores your orders serverside, your orders are no longer held on your computer, but instead in the cloud.
#5 Charting
Charting is one of the most important tools a trader can use to analyze the markets. A good trading platform will have powerful charting, drawing tools, and all of the indicators that you need.
#6 Ladder/DOM
The trading ladder or DOM is the most popular way for futures daytraders to trade the markets. A good futures trading platform will offer a full-featured DOM as well as one-click trading capabilities. This makes placing and modifying your orders fast and easy, and it's also a good visualization tool to evaluate order flow.
#7 Account Details
Your trading platform should clearly display your account balances, positions, and margin usage at all times. It's important to understand where your account stands in real-time during market trading hours.
#8 Custom Strategies
Custom order strategies have gained a lot of popularity in recent years. The ability to be able to buy or sell the market with automatic profit and stop-loss orders is a must-have for most futures traders. Your trading platform should offer this tool instead of requiring you to manually place these orders every time that you trade. Ask your broker if their platform supports bracket orders.
#9 Day Trade Margins
Different trading platforms offer different day trade margins. This is usually because the risk control systems vary between trading platforms. Some aren't equipped with the proper tools to manage the risk of a day trader utilizing low margins and should be avoided if you're looking for higher leveraged trading. Make sure that the platform you're interested in can support the day margins that you're looking for.
#10 Updates
A platform that is regularly updated is a good sign. It usually means that it's being actively developed upon and improved. A good trading platform developer will gather customer feedback and bring new features and tools to the software on a regular basis.
Conclusion
Choosing a futures trading platform can be a very easy choice once you know what to look for, and what features you need to make you feel comfortable trading on it. Choose a reliable, modern, and regularly updated platform to have the best trading experience possible. Please see below for other helpful information.
DISCLAIMER: There is a substantial risk of loss in trading commodity futures and options products. Losses in excess of your initial investment may occur. Past performance is not necessarily indicative of future results. Please contact your account representative with concerns or questions.