Get Your Free Demo Today
The Ironbeam trading platform is one of the only fully-featured mobile futures trading apps. Seamlessly trade between web, desktop, and mobile. Enjoy powerful charting, unfiltered market data, and 24-hour support.
Risk-Free Simulated Trading

Unlimited Support & Walkthroughs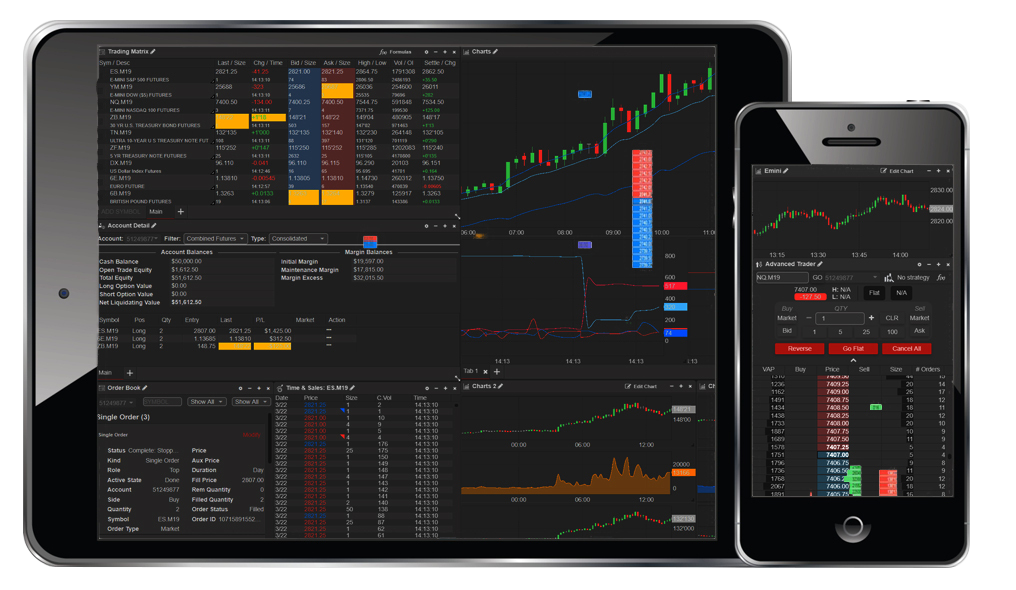 Why trade micro crypto options at Ironbeam?
Options on Micro Bitcoin and Micro Ether futures offer additional ways to manage your exposure to the top cryptocurrencies by market capitalization and can help optimize your crypto trading strategies. Building on the strength and liquidity of Micro Bitcoin and Micro Ether futures, these options contracts offer traders a way to efficiently hedge market-moving events with greater precision and flexibility, enabling traders of all sizes to access the crypto markets.
Take advantage of our wide offering of micro contracts
Micro 2-Year, 5-Year, 10-Year, and 30-Year Yield Futures. 

Micro Euro, Canadian Dollar, Japanese Yen, British Pound, Australian Dollar, Swiss Franc, Indian Rupee

Micro E-Mini S&P 500, Dow Jones, NASDAQ, Russell 2000
Current Promotions
We are pleased to offer the following new futures account promotions!
Free Ironbeam trading platform

Low day trading margins on the most popular futures contracts

No minimum deposit to open a new trading account
Micro Futures Symbols & Tick Value Guide
Please see below for the micro futures symbols. To add a symbol in the Ironbeam trading platform, simply type in the symbol in the 'add symbol' field and it will display all of the available expirations for each symbol.
| Contract | Symbol | Tick Increment | Tick Value |
| --- | --- | --- | --- |
| Micro E-Mini S&P 500 | MES | 0.25 | $1.25 |
| Micro E-Mini Nasdaq | MNQ | 0.25 | $0.50 |
| Micro E-Mini Dow Jones | MYM | 1.00 | $0.50 |
| Micro E-Mini Rusell 2000 | M2K | 0.1 | $0.50 |
| Micro Bitcoin Futures | MBT | 5 | $0.50 |
| Micro WTI Crude Oil | MCL | 0.01 | $1.00 |
| Micro Gold Futures | MGC | 0.1 | $1.00 |
| Micro Silver Futures | SIL | 0.005 | $5.00 |
| Micro EUR/USD Futures | M6E | 0.0001 | $1.25 |
| Micro CAD/USD Futures | MCD | 0.0001 | $1.00 |
| Micro JPY/USD | MJY | 0.000001 | $1.25 |
| Micro CHF/USD | MSF | 0.0001 | $1.25 |
| Micro GBP/USD | M6B | 0.0001 | $0.62 |
| Micro 2-Year Yield Futures | 2YY | 1.00 | $1.00 |
| Micro 5-Year Yield Futures | 5YY | 1.00 | $1.00 |
| Micro 10-Year Yield Futures | 10YY | 1.00 | $1.00 |
| Micro 30-Year Yield Futures | 30YY | 1.00 | $1.00 |
Questions? Call us at 312-765-7200
*Day trading margins not available during the commission-free period*
Visit Our Knowledge Base Trading Platform FAQs Which trading platforms are available to me? Ironbeam offers many trading platforms. Visit our platform page to view your options. If there is a platform that you are interested in that is not listed on our platform page, call our help desk to check availability. Ironbeam is compatible with many [...]
Visit Our Knowledge Base Trading FAQs What exchanges are currently supported by Ironbeam? We offer trading on the following exchanges: -Chicago Mercantile Exchange (CME) -Coinbase Derivatives -Chicago Board of Trade (CBOT) -New York Mercantile Exchange (NYMEX) -Commodity Exchange Inc. (COMEX) -ICE Futures US -ICE Futures Europe -EUREX Do you offer options trading? Yes, of course. During what [...]